Pay The Price For your Betrayal
Wifi OU Team By Roxas
Welcome to my new Wifi OU Team, friends of Treehouse. It's been awhile since I've made an RMT, hasn't it? I've been trying to make a new RMT, but nothing could just come to mind, then I thought about making a new team a few days ago (7/18) and only got two pokemon. Anywho, onto the team
--Glance at the Team--
-
-
-
-
-
I've gotten tired of constantly using weather for almost every team I create, and I've decided to make a bunch of non weather teams. I mean come on, seeing weather team after weather team is boring (that goes for Hail too, which you all should know is my favorite weather).
--Team in-depth--
The names deal with the song posted above (If you'll notice that each of the names have parts of the chorus).
Run Away (Deoxys-D) @ Leftovers
Trait: Pressure
EVs: 252 HP / 4 Def / 252 Spd
Timid Nature (+Spd, -Atk)
- Spikes
- Taunt
- Recover
- Night Shade
Deoxys-D's incredible bulk gives it the chance to set up hazards. It's one of the fastest Hazard setters in the OU tier, and with it being so fast, it's easier to set up Spikes. Taunt can block out anyone else deciding to taunt me (except for the occasional Prankster Sableye), and any damage (minimal or otherwise) I can heal with recover, and then fight back with Night Shade. I've never actually used any of the Deoxys formes competitive wise (except for my very first team on Shoddy Battle, which was absolutely horrible).
Soak the Place (Gyarados) (M) @ Life Orb
Trait: Moxie
EVs: 252 Atk / 4 Def / 252 Spd
Jolly Nature (+Spd, -SAtk)
- Dragon Dance
- Waterfall
- Stone Edge
- Earthquake
This Gyarados is basically set up over set up. If I can get at least one Dragon Dance up with him, I can deal some pretty badass damage. Earthquake is used to KO pokemon like Jirachi, Non balloned Heatran, and Non Balloned Excadrill, and Jolteon. Waterfall to hit pokemon like Heatran, Volcarona, Darmanitan, Gliscor, and Landorus. Stone Edge can hit any flying types like Thundurus/Thundurus-T, Tornadus/Tornadus-T, Salamence, and other Gyarados'. Moxie gives me that extra boost in power helping me KO other pokemon once I get that first KO/DD.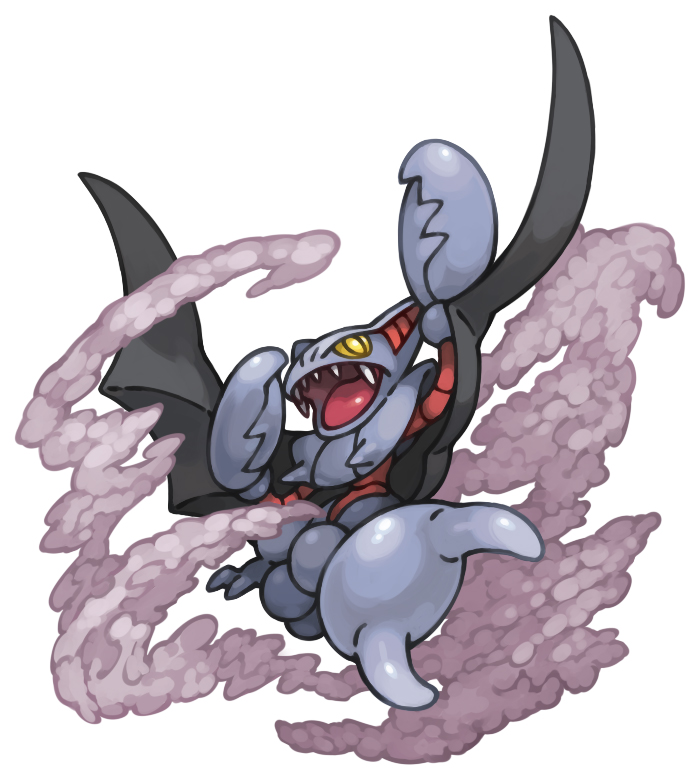 Light the Flame (Gliscor) (F) @ Toxic Orb
Trait: Poison Heal
EVs: 252 HP / 184 Def / 72 Spd
Impish Nature (+Def, -SAtk)
- Swords Dance
- Protect
- Earthquake
- Ice Fang
I've seen Gliscor used so many times, but I've never tried it. I originally wanted to use the AcroBat set, but then I realized it's better used in Sand. So I decided to go with the Swords Dance boost. All I really have to do is avoid any ice/water type moves. Once I send it out, I activate Protect to get Toxic Orb flowing, then rely on using Swords Dance to get +2 attack and then use Earthquake for any Hot heads and Metal heads. Ice Fang is used to take out any opposing dragons and flying types. Sadly, if faced against a Gyarados, I'd be forced to swap out unless I'm at +6 (highly unlikely) and at that I
might
not KO it.
Pay the Price (Alakazam) (F) @ Focus Sash
Trait: Magic Guard
EVs: 4 Def / 252 SAtk / 252 Spd
Timid Nature (+Spd, -Atk)
- Substitute
- Psychic
- Focus Blast
- Shadow Ball
The main point of Alakazam is to rid out Starmies and Gengars. With its amazing speed, it can out speed them both (assuming neither are scarfed) and take them out or at least deal some heavy damage. It's pretty much touch and go once I get Substitute set up. Psychic helps take out Gengars, Tentacruels, and any fighting pokemon (that are slower, like a non scarfed Terrakion). Focus Blast deals with Heatran, even with its poor accuracy. Shadow Ball hits Starmie and any other Psychic types that get in the way (i.e. Reuniclus). With Magic Guard, I take no damage from Stealth Rocks, Spikes, Toxic Spikes, and the non exsistant Life Orb.
Your Betrayal (Jirachi) @ Expert Belt
Trait: Serene Grace
EVs: 152 Atk / 204 SAtk / 152 Spd
Naive Nature (+Spd, -SDef)
- Iron Head
- Fire Punch
- Hidden Power [Ice]
- Thunderbolt
Everyone should know by now that I've found an intrest in the smaller legendaries like Celebi, Victini, Mew, and Jirachi. I hardly use this little guy, and I really wanted to see him in action. After dealing with all the Haxrachis out there, I sorta want a way to get rid of them, and thus, Your Betrayal was born. I like this set alot because it can get some flinch rage going with Iron Head. It can fight other Jirachis with Fire Punch, and can outspeed the majority of dragons and flying types. Thunderbolt is used to kill any water types like Politoad and others.
Stay Away (Breloom) (F) @ Life Orb
Trait: Technician
EVs: 252 Atk / 4 Def / 252 Spd
Jolly Nature (+Spd, -SAtk)
- Spore
- Swords Dance
- Mach Punch
- Bullet Seed
Techniloom was my favorite Dream World pokemon besides Keldeo. If it can use Spore, then get a +2 from Swords Dance, it can destroy a lot of pokemon (I originally wrote peoplemon, blooperz!). If Breloom uses Spore on a switch with a STChandy, then gets a single Sword Dance, it can OHKO Chandelure with Bullet Seed thanks to the power from Life Orb, Technician, and the Swords Dance. Basically this is my main sweeper since it can take out a heck of a lot of pokemon.
Yeah, so basically, this is my new team. I've had wins and loses, some mainly due to Breloom. I actually like this team, but I'm welcome to any recommendations. I have been thinking of swapping Gliscor though, so perhaps some ideas there would be cool. Rate Away friends~