I made this team after I saw Harsha's Post about volt-turning and since then I have been testing many teams that can do volt-turning and for the past week I have been using one with the best results so without a do let's get to it.
Mienshao (M) @ Life Orb
Trait: Regenerator
EVs: 4 HP / 252 Atk / 252 Spd
Jolly Nature (+Spd, -SAtk)
- U-turn
- Hi Jump Kick
- Fake Out
- Stone Edge
The team lead for a reason with most of it's moves power up by the life orb and the Trait: Regenerator which heals 33% of Mienshao HP it makes a great pokemon starting with fake out to get damage off and then it has 3 moves to choose from: U-turn to get some damage off,Hi Jump kick is STAB and Stone edge is for the two OU of today Dragonite and Volcano.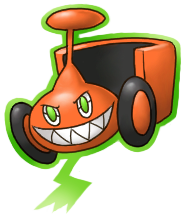 Rotom-C @ Choice Scarf
Trait: Levitate
EVs: 252 SAtk / 4 SDef / 252 Spd
Modest Nature (+SAtk, -Atk)
- Leaf Storm
- Thunderbolt
- Volt Switch
- Hidden Power [Ice]
Harsha's set from his RMT only with T-Bolt over Thunder anyways its main job is to Volt out or Revenge kill a pokemon I don't like most people don't know how to deal with this pokemon cuz its RU but I see this pokemon becoming OU one day. Leaf Storm is Pure 120 STAB and HP ice deals with dragons.
Heatran (M) @ Leftovers
Trait: Flash Fire
EVs: 248 HP / 100 SDef / 160 Spd
Calm Nature (+SDef, -Atk)
- Lava Plume
- Roar
- Protect
- Stealth Rock
When it comes to Vol-turning, Stealth Rocks can go a long way and so can burns Heatran is two in one SR to helps the others as well as the 30% chance to burn the foe is anyways nice so I don't have to deal with phy attacks much as well as Leftovers will be render petty useless.

Jellicent (M) @ Leftovers
Trait: Cursed Body
EVs: 248 HP / 216 Def / 44 Spd
Bold Nature (+Def, -Atk)
- Scald
- Will-O-Wisp
- Recover
- Shadow Ball
Jellicent is two in one, A bulky water type as well as a spin blocker with cursed body I can stop an attack 30% of the time. Will-o-wisp and Scald are burning because Jellicent does not have the best def in the game, Shadow Ball is another Stab move that also lowers Sp.def at times and recover to get Hp back.

Skarmory (F) @ Leftovers
Trait: Sturdy
EVs: 252 HP / 184 Def / 72 Spd
Bold Nature (+Def, -Atk)
- Brave Bird
- Roost
- Whirlwind
- Spikes
Skarmory is one of the best phy walls out there One of the reason I picked it, as I said for Heatran I will now say this about skarm. Spikes can go a long way with helping the Volt-turn duo, Whirlwind to start doing damage to other pokemon, BB for STAB and Roost to heal not much else to say here.

Dragonite (M) @ Leftovers
Trait: Multiscale
EVs: 252 HP / 252 SDef / 4 Spd
Careful Nature (+SDef, -SAtk)
- Substitute
- Thunder Wave
- Roost
- Dragon Tail
This type of Dragonite helps a lot with SR and spikes up, T-Wave to para my opp. Sub up and then start to dragon tail and Roost to keep Mulitscale I like this set but it lacks Powers and most people can get around it so I might change this.
So anyways this has been my RMT it's been a while but I know this team it works well and trust me I know it can go far with a bit more helps until then
~Vol
Last edited by vol60 on Sun Feb 26, 2012 8:28 pm; edited 1 time in total (Reason for editing : Editing Info on Skarm and Heatran)