Penembakan Hasrat Membunuh
A co-op RMT by
Harsha
,
Kira Light
, and
Rick
.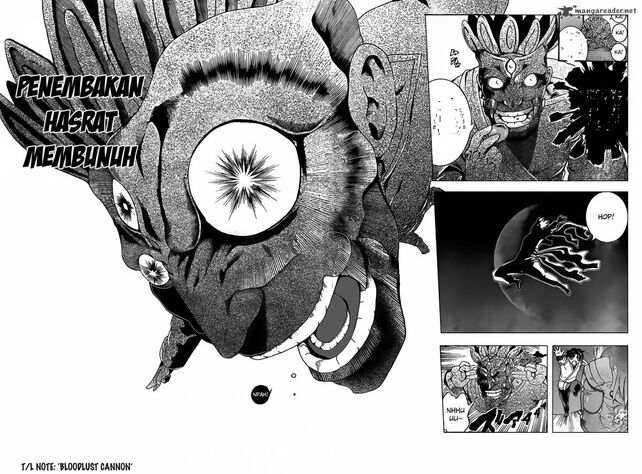 ╠═══════════╣
Introductions
╠═══════════╣
Volt-Turning offense has become one of the most popular team styles for a reason. The ability to keep momentum up while troubling your opponent with the presence of a different Pokemon that covers each other's weaknesses each turn is what truly separates Volt-Turning from more conventional forms of offense. Scizor and Rotom-W form the core of conventional Volt-Turning offense. This leads to the establishment of certain counters of that core, which Harsha, Kira Light, and I have taken into account when building the team.
The name of the team stems from a technique used by Silcardo Jenazad (alt. translation Silkwat Junazard), one of the most powerful masters of Yami, the current antagonistic group in History's Strongest Disciple Kenichi, named Penembakan Hasrat Membunuh (trans. Bloodlust Cannon; lit. The Shooting Desire to Kill). Penembakan Hasrat Membunuh enables Silcardo Jenazad to transmit any killing intent of his into a target of his choice, confusing opponents that he faces. This technique was adopted as the name for this RMT because the constant switching between the core members can leave the opponent confused.
Rick gave a pretty good introduction, so I won't say too much here. The team was made because we wanted to add some teams to a guide we are working on, and Volt-Turn was one of the most prominent strategies in OU. After a giant chat with Rick and Kira, this is the team that arose. It's based around maintaining an offensive presence with our Volt-Turn core and sweeping later on with our sweepers, while leaving the field open with our clerics. Truly, the team is very fun to use, and there isn't much more to say on that note.
Greetings, Treehouse. This team's project started more than a week ago, whilst Rick and I were in a middle of a battle. Harsha suddenly asked Rick if he could create a Volt-Turning team, in order for it to be added to the analysis created on that particular strategy by Harsha. He then proposed that all three of us build a team of that archetype together. I was very excited and flattered to have been invited into the project. We then met on a channel on the server, allowing us to communicate via chat to express our teambuilding thoughts. I'd like to thank Rick and Harsha for allowing me to participate in the team's construction. I hope you will enjoy viewing the RMT. All rates are welcome!
╠═════════╣
Importable
╠═════════╣
Code:

Scizor (F) @ Choice Band
Trait: Technician
EVs: 248 HP / 56 Atk / 204 SDef
Adamant Nature (+Atk, -SAtk)
- Bullet Punch
- U-turn
- Pursuit
- Superpower

Rotom-W @ Chesto Berry
Trait: Levitate
EVs: 252 HP / 232 Def / 24 Spd
Bold Nature (+Def, -Atk)
- Hydro Pump
- Volt Switch
- Will-O-Wisp
- Rest

Celebi @ Leftovers
Trait: Natural Cure
EVs: 232 HP / 240 SAtk / 36 Spd
Modest Nature (+SAtk, -Atk)
- Giga Drain
- Hidden Power [Fire]
- Stealth Rock
- Psychic

Starmie @ Leftovers
Trait: Natural Cure
EVs: 4 HP / 252 SAtk / 252 Spd
Timid Nature (+Spd, -Atk)
- Hydro Pump
- Ice Beam
- Thunderbolt
- Rapid Spin

Terrakion @ Rock Gem
Trait: Justified
EVs: 252 Atk / 4 Def / 252 Spd
Jolly Nature (+Spd, -SAtk)
- Substitute
- Swords Dance
- Stone Edge
- Close Combat

Dragonite (F) @ Lum Berry
Trait: Multiscale
EVs: 252 HP / 40 Atk / 216 Spd
Adamant Nature (+Atk, -SAtk)
- Dragon Dance
- Dragon Claw
- Fire Punch
- Roost
╠══════════════════╣
Team Building Process
╠══════════════════╣
In the chat log seen
here
, Harsha is under the username
Harsha
, Kira Light is under the username
Kira Light
, and I (Rick) am under the username
Trinitrotoluene
.
Spoiler:

Please note that I (Rick) am the only commentator for the Team Building process. The chat log can be seen in the link above.

In our chat, we discussed who would be best for a Volt-turning offensive team. Before we went down to the actual members though, we determined counters to the established core of Scizor and Rotom-W. From the counters determined, we decided to use Celebi and Starmie to cover for those weaknesses.

From there, we wanted Pokemon that could help the rest of the team while maintaining an insane offensive presence. We noted that Volcarona was a threat to the 4 Pokemon we had already selected. Pursuit also was anathema to the supporters of the Volt-turning core. We decided to exploit that weakness and bring in Terrakion, which can set up on Pursuit. We also found a slight weakness to Scizor, so Dragonite was implemented into the picture.
╠══════════════╣
Team At A Glance
╠══════════════╣
╠═══════════════╣
The Team in Detail
╠═══════════════╣
Scizor
Female |
| Technician
248 HP / 56 Atk / 204 SpD
Adamant Nature (+Atk, -SpA)
~ Bullet Punch
~ U-turn
~ Pursuit
~ Superpower
The more observant among you might have noticed that I have been using Scizor in nearly every one of my RMTs after .::Fire Power::., my last Drought-based team posted. With that in mind, don't expect to hear much else besides the usual ranting about it. CB Scizor by itself is unoriginal. However, the EV spread used for this Scizor is original and exclusive only to the teams I've made or have had a part in making. I place Scizor in the lead for Team Preview to exploit the fact that my opponent might lead with some of Scizor's hard counters. However, I will lead with Scizor if I see that my opponent can't deal with it effectively. Its typing also lets me use it as a revenge killer for boosted, but weakened Dragon-type Pokemon. Bullet Punch gives Choiced Terrakion and the aforementioned Dragon-types the shivers while U-turn lets Scizor scout out the opponent's team. Pursuit helps me check the Lati twins and Superpower nails Heatran and Magnezone on the switch. The EVs enable me to live through an unboosted Modest Celebi's Hidden Power Fire. On the topic of Fire-type attacks not named Hidden Power Fire, they give every other member of the team except for Celebi a free switch-in, which allows them to threaten the opponent. However, I'll more often than not be switching Rotom-W into the Fire-type attacks to continue the Volt-Turning chain.
For Scizor, we chose to go a more specially defensive route, as we wanted to be able to send it in on Draco Meteors and do as much damage as possible. Also, we wanted to sponge un-invested Hidden Power Fires and live. The spread has not failed. Even with only 56 attack EVs, Scizor still hits like a truck. Bullet Punch is the priority move of choice, and it works well in checking things like Terrakion, Gengar, and Latios; it also is great for revenge-killing. U-turn is Scizor's other STAB of choice, and it allows it to scout and form part 1 of our Volt-Turn core. Also, it deals a massive amount of damage to Pokémon that don't resist it. Superpower takes down Blissey and Chansey, and is a force to be reckoned with even at -1. Pursuit catches Latios, Gengar, and Starmie on the switch, but I have to make sure that I don't become fodder after I use it. Technician is the obvious ability because it raises Bullet Punch's power, and Bullet Punch is one of the most used moves on this set. Scizor is an important piece of this team, and it carries a large load offensively and defensively; however, it does this quite well.
Scizor is THE most used Pokemon in the OU tier, as it can fit well in many different teams. Our's was not an exception, as Scizor is able to take down many threats to the team, notably Terrakion. Its synergy with the other members of Penembakan Hasrat Membunuh is very great, as its sole weakness to Fire is covered by Dragonite, Rotom-W, Starmie and Terrakion. It is part one of our Volt-Turn core. U-Turn is a STAB move that allows scouting, to preserve momentum. Bullet Punch reaches a Base Power of 90 thanks to the STAB and Technician boosts and is used to revenge-kill, as getting priority in speed is amazing. Superpower allows Scizor to beat Ferrothorn, and is a strong move overall, that offers nice coverage. Pursuit traps the Lati-twins who are looking to switch out after using Draco Meteor, as well as Gengar and Reuniclus. The EV spread is the one Rick used for his own Scizor in It's Over 9000! EVs were mostly invested in HP and Special Defense, to allow Scizor to take hits better, and repeatedly being able to do so. It will still be hitting hard, though. The Choice Band considerably increases the Pincer Pokemon's attack stat. The Adamant nature used was obvious. Scizor is a precious member of the team, as it has multiple roles.
Rotom-W
Genderless |
| Levitate
252 HP / 232 Def / 24 Spe | 0 Atk
Bold Nature (+Def, -Atk)
~ Hydro Pump
~ Volt Switch
~ Will-O-Wisp
~ Rest
Rotom-W forms the other half of the Volt-turning core present in this team. Its palette of resistances, courtesy of its typing and Levitate, complements Scizor's tremendously. They cover each other's weaknesses perfectly and hit hard, while keeping pressure up on the opponent's side of the field. I don't always lead with Rotom-W, but when I do, it's up against Politoed or anything else that threatens Scizor. Hydro Pump and Volt Switch are Scizor's two STAB moves, and are very effective at deterring the majority of OU from switching into it. Will-O-Wisp gimps physical attackers not named Conkeldurr looking to set up on Rotom-W, and Rest gives Rotom-W a chance to fully heal itself up and rid itself of status. The Chesto Berry lets Rotom-W play the role of the lure, acting like it's running a Scarf set, the most common Rotom-W as of now. The EVs were developed in our chat, and they let Rotom-W take on many physical attacks. While this Rotom looks like massive Ferrothorn bait, Will-O-Wisp and VOlt Switch quickly set it in its place. Grass-type attacks are lured and, with the help of Volt Switch, give Dragonite, Celebi, and Scizor free switch-ins.
ChestoRest Rotom-W is an uncommon set, but when Rick asked if we wanted to try it, I decided it was worth a go. It's actually worked pretty well, as it has the ability to escape Volt-Turn's greatest enemy, status. The EVs allow Rotom-W to abuse its base 107 defense to the fullest, and Will-O-Wisp aids this considerably. Hydro Pump deals pretty major damage thanks to STAB, and Volt Switch completes the Volt-Turn core. Rest is used when Rotom-W gets low on HP, as it completely heals Rotom-W and cures the status. The Chesto Berry gets rid of sleep, and Rotom-W is ready to sponge hits again. Levitate provides a bunch of switch-in opportunities against people using Earthquake against Terrakion, and also avoids Spikes and Toxic Spikes residual damage. Rotom-W is a pretty valuable member of the team because of the typing, the ability to sponge physical hits, and the ability to complete our offensive Volt-Turn core; it would be hard trying to find another Pokémon to replace it.
Rotom-W serves as this team's second part of the Volt-Turn core. It helps against Rain teams and can lay offensive pressure whilst keeping momentum on our side. The set used on the team is a Chesto-Rest one which Rick discovered on a site, whilst surfing the internet. The EVs were collected from ToF's "When in Doubt, U-Turn Out!", and they aim at investing bulk and special attack. STAB Volt Switch is used for scouting, and is used often on a fleeing foe that needs to switch under various cirumstances (it can't do much to Rotom-W, it just used a move that lowers a stat, etc.). Hydro Pump is its other STAB move, and, at 180 Base Power, will hit very hard foes that are weak to it. It has good coverage, and is a pretty good move overall. Will-O-Wisp is used to cripple physical users, and can help us win the game with more ease. It's useful on a one-on-one situation with Scizor, as it will now be rendered almost powerless due to the burn degrading its massive attack to dust. Rest is the last move used on the set, and is useful to regain 100% of its health, as well as curing any status inflicted throughout the match. This more physically defensive variant of the washing machine has the Bold Nature to boost its defense to greater heights.
Celebi
Genderless |
| Natural Cure
232 HP / 240 SpA / 36 Spe | 2 Atk / 30 SpA / 30 Spe
Modest Nature (+SpA, -Atk)
~ Giga Drain
~ Hidden Power
~ Stealth Rock
~ Psychic
A weakness to Stealth Rock is the one move that keeps two of the biggest threats in OU, Dragonite and Volcarona, from ascending to the Uber tier. Stealth Rock also helps to facilitate the breakdown of a team with the Volt-turning core of Scizor and Rotom-W. Naturally, it would be a dangerous proposition to go into battle facing the two without Stealth Rock. If you read the chat log, then you would notice that we determined that Gastrodon, Virizion, Celebi, and Breloom were serious problems for a Volt-turning core of Scizor and Rotom-W to face down. While opposing Celebi could be dealt with by other means (A.K.A. Dragonite, Scizor, Starmie when weakened), the other three would prove to be a problem. So, we decided to place our Stealth Rock setter and counter to those problem opponents in one Pokemon. Celebi is brought into battle early on to lay Stealth Rock down, limiting the potential of Dragonite and Volcarona. Later on, it'll come out to play when bulky waters or one of the three Pokemon mentioned as problems to the Volt-turning core show up. Giga Drain lets Celebi maintain its health and gives it a reliable STAB move. Psychic is a more powerful STAB move and lets Celebi act as a stopper for powerful Fighting-types and Tentacruel. Hidden Power Fire discourages Scizor switch-ins. Celebi's weakness to Ice is exploited by Scizor, Rotom-W, and Starmie, while its weakness to Dark is welcomed by Terrakion and Scizor. Bug-type moves are Dragonite and Scizor bait. The same can be said for Fire and the rest of the team (bar Scizor, obviously). Flying-types are taken care of by Rotom-W, and most of them are discouraged from switching in the first place by Stealth Rock. Psychic deals with Poison-types and Ghost-type Pokemon tend not to like Scizor. If you haven't noticed, the three attacking moves check the majority of the spinners in OU.
Celebi brought a lot to the table offensively, and its ability to also use Stealth Rock caught our eye; there was no way we could ignore this pixie. Celebi's typing leaves many weaknesses to common moves like U-turn, but that's ok. We chose to use Hidden Power Fire on the set to let Celebi seemingly turn into bait against Scizor, though Celebi deals massive damage to projected switch-ins. Stealth Rock gives all offensive teams a boon against other teams, and it helps us preserve offensive momentum by making it so that the opponent has to think twice about switching. Giga Drain was chosen because we decided to forgo Recover. It does well against bulky Water-types and can give us semi-reliable recovery. Psychic helps us out against threats like Conkeldurr who could potentially rampage should we not use Psychic. Also, it beats spinners like Hitmontop and Tentacruel, which is important considering Celebi uses Stealth Rock. As Rick pointed out, the coverage moves give us answers to all of the spinners in OU. The EVs are his, and I haven't changed them for lack of a better spread. IVs minimize confusion damage while retaining a base 70 power Hidden Power Fire. Our supporter for the team, Celebi, does a nice job.
Celebi is a synonym of reliability. Its ability to take repeated hits is amazing. It can cause trouble to Volt-Turn teams, as well as providing the Stealth Rocks, to minimize two of OU's best sweepers, Dragonite and Volcarona. The set we used for the team is a modified version of Tinkerbell, since Giga Drain is used over Leaf Storm, Stealth Rock replaces Thunder Wave as the support option, and Recover leaves the last slot in order for Hidden Power [Fire] to be used. The EVs used match the set. While it takes hit relatively well, it can hit very hard as well. Giga Drain allows it to recover health whilst draining the opponent's health with a base power of 112.5 due to STAB. Psychic reaches 135 with STAB, and is a reliable coverage move that allows us to beat Conkeldurr and Breloom. The Hidden Power [Fire] lands a solid OHKO on a standard Scizor, if the current weather is anything else than Rain. It also makes Scizor less of a threat to our team.
Starmie
Genderless |
| Natural Cure
4 HP / 252 SpA / 252 Spe | 0 Atk
Timid Nature (+Spe, -Atk)
~ Hydro Pump
~ Ice Beam
~ Thunderbolt
~ Rapid Spin
Entry hazards are the bane of the Volt-turning core of Scizor and Rotom-W. The constant switches caused by the use of Volt Switch and U-turn, whilst forcing pressure on the opponent, leave the users vulnerable to Stealth Rock, which reduces their staying time in battle. While this isn't as big a problem for Rotom-W, who has access to Rest to heal up, Scizor is especially affected, seeing that it's the member of the team with the most critical resistances. Dragonite also is adversely affected by Stealth Rock, cutting down on its durability by reducing its HP and deactivating Multiscale. Rapid Spin, provided by Starmie, helps alleviate the problems found. While other spinners, such as Donphan, Hitmontop, Cloyster, and Forretress exist, Starmie's main draw over them was the ability to fully abuse Hydro Pump and BoltBeam's impressive coverage to give rain teams some problems. While Ferrothorn is a problem for Starmie to face, other team members can help against the Ferrothorn problem. The EVs are standard, and the IVs minimize confusion damage.
Starmie, our second supporter, is just as important as our first. Starmie's main selling point, Rapid Spin, was just what we needed for our team. Starmie has the ability to spin reliably, as well as beat the most common spin blockers in OU (Jellicent, Gengar). Also, Starmie has the ability to cure itself of status upon switching, so paralysis and poisoning won't hamper it. Hydro Pump hits like a truck, and it does even better against opposing rain teams. Ice Beam and Thunderbolt hit Dragon-types and Gyarados hard; furthermore, they have near perfect coverage. Leftovers was our item of choice because it helped preserve Starmie so that we could use Rapid Spin later on in the game. The IVs minimize confusion damage, while the EVs are standard. Starmie is necessary on the team because it stops hazards from hampering our Volt-Turn core, and it also allows Dragonite to sweep without Stealth Rock's intrusion. I haven't faced many problems with Starmie other than its becoming Pursuit bait at times against Tyranitar. However, that's no issue because I can usually play around that with wits. Just as necessary as the first supporter is Starmie, and it has proven its reliability on multiple occasions.
Starmie allows our Volt-Turn core to consistently flow. Its role as a Rapid Spinner is key, since hazards are a huge threat to Volt-Turning. It also does well offensively, to remove pressure off Rotom-W. Its speed is ridiculously high, and with a Timid Nature, it outspeeds most of the OU metagame. It has access to strong coverage moves, such as Hydro Pump, Ice Beam and Thunderbolt. STAB Hydro Pump lets us cover Terrakion and Heatran, two potential threats. Ice Beam hits Dragon types like Dragonite, and is assured to OHKO it once it comes in off Stealth Rock damage. Thunderbolt hits water-types like Tentacruel, to prevent them from walling this set. Its role is very key in most games. Its rapid spin utility is also thanked by Dragonite, the last member of the team. Natural Cure is a VERY useful ability, as it removes status by switching out. Simple. It also prevents it from sleeping for a whole game, if put to sleep early in the match.
Terrakion
Genderless |
| Justified
252 Atk / 4 Def / 252 Spe
Jolly Nature (+Spe, -SpA)
~ Substitute
~ Swords Dance
~ Stone Edge
~ Close Combat
Kira Light made this Terrakion set. New World Order just published it.
With that disclaimer aside, let's move along to the wonder that is SubSD Terrakion. It can break stall, force switches, and terrorize OU. For most Terrakion, status and super-effective attacks are its bane. However, Substitute acts as a safety blanket, keeping it safe until it is broken. Because of the lack of Leftovers and Air Balloon, this Terrakion can masquerade itself as a CB Terrakion, allowing it to force switches. Those switches grant Terrakion a free Sub, which in turn grants it a Swords Dance. From there, Terrakion can smash through physical walls and attempt a sweep. With the Rock Gem, Terrakion's +2 Stone Edge OHKOs the standard Gliscor and leaves Skarmory hurt. Close Combat is more powerful and reliable than Stone Edge, and is used if the opponent Terrakion is facing is hit neutrally by both moves. The EVs are standard, and the Jolly nature increases Terrakion's Speed stat. Terrakion's weakness to Water is covered by Rotom-W, Starmie, Dragonite, and Celebi. Grass-types run from Scizor, Celebi, and Dragonite. Ground-types are checked by Rotom-W and Celebi, while Steel-types have to deal with Scizor, Rotom-W, and Starmie. Psychic-types are taken care of by Scizor and Celebi, and Fighting-type Pokemon have to deal with Celebi and Dragonite.
Terrakion is a major force to deal with. Not only does it have the ability to OHKO Gliscor and Slowbro at +2, but it hits like a truck against nearly everything due to its high base power moves and great coverage. We chose to go the Substitute + Swords Dance route for the ability to beat down the above physical walls. With a Rock Gem, Stone Edge OHKOs Gliscor and Slowbro at full health. With a Subtitute up, it's not too hard to get to +2. Close Combat provides another strong move that can OHKO Skarmory after Stealth Rock damage at +2. Basically, if the opponent cannot out-speed Terrakion at +2, it's "gg." The EVs maximize attack and speed, and the jolly nature allows it to speed-tie max speed Infernape and the musketeers. Though Rock Gem only has one use, it does so much by clearing the field of physical walls. One would be hard pressed to find another sweeper of Terrakion's caliber to replace it. It does so much for this team offensively that not even dedicated walls can stop its rampage.
Terrakion is one of the best sweepers and Volcarona checks in the OU metagame as of now. Getting STAB Close Combat and Stone Edge lets it rampage through unprepared teams. Our set was the one I used in "There is no I in Team", which was then credited to New World Order from Smogon, once he completed that set's analysis. It's known as the "SubSD" set. Substitute grants Terrakion a free turn, whilst removing the opponent's ability to use support moves like Thunder Wave or Will-O-Wisp. After setting up a Substitute, it has the option to set up a Swords Dance to considerably increase its attack, or take something out with either the Close Combat or Stone Edge. The Rock Gem item lets Stone Edge hit much harder once, and it means Terrakion has a 100% chance of landing a OHKO on the standard SD Gliscor (once the Stealth Rocks have been layed down) at +2 in Attack. The EVs max Attack and Speed, to ease Terrakion's sweep as well as maximizing its offensive potential. It can be used to gain a lead in a match, or as a late-game finisher, to clean up weakened foes. The Jolly Nature allows it to reach an amazing 346 base speed stat, outspeeding almost all of the OU tier.
Dragonite
Female |
/
| Multiscale
252 HP / 40 Atk / 216 Spe
Adamant Nature (+Atk, -SpA)
~ Dragon Dance
~ Dragon Claw
~ Fire Punch /
~ Earthquake
~ Roost
Dragonite is amazing. It's one of the best Volcarona checks and biggest threats that exist in OU. Multiscale, which reduces the damage dealt when Dragonite is at full HP, is the reason it has risen to prominence. While the offensive DD set aims to abuse Multiscale by using it as a safety blanket to set itself up, the set we have chosen, the bulky DDer, aims to abuse Multiscale by supplementing its bulk, letting Dragonite set up multiple Dragon Dances. As you, the reader, might see, some of the options for Dragonite are different. I use Lum Berry and Earthquake, while Harsha and Kira Light use different combinations. I chose Lum Berry and Earthquake because I prefer hitting Heatran and Terrakion super-effectively rather than getting past Scizor and Skarmory. However, I can and will use Fire Punch if I feel like switching things around. Dragon Dance is Dragonite's main boosting move, increasing its Speed and Attack by one stage every time it's used. Dragon Claw was chosen over Outrage because Dragon Claw doesn't lock Dragonite into one move. Using Dragon Claw also allows me to save the Lum Berry for accidental statuses, such as paralysis or burns. As mentioned earlier, I chose Earthquake because I prefer hitting Heatran and Terrakion super-effectively. However, Fire Punch has its merits because it's able to beat down Scizor, Bronzong, and Skarmory. Roost keeps Dragonite healthy. The EVs are pulled from the Bulky Dragon Dancer analysis on Smogon. The HP was maxed out to buffer Dragonite's defensive prowess, while 216 EVs were placed in Speed. The Speed EVs give Dragonite a Speed stat of 250, enabling it to beat out Scarfed Landorus after 2 DDs. The remaining EVs were placed in Attack.
Dragonite is our late-game cleaner, and my personal favorite Pokémon. We all went with different items and movesets because we all have our own preferneces. I chose to use Leftovers because I like the semi-automatic recovery at the end of each turn, though I toggle between Leftovers and Lum Berry because getting rid of status has its merits. The EVs also allow us to out-speed Starmie and other base 115s after just one Dragon Dance boost, which is great. Multiscale abuse goes along well with Roost, as we can continually get more and more Dragon Dance boosts due to losing the Flying-type and getting a Multiscale buffer. Roost also helps if Starmie ever goes down, because we can get Multiscale even after a switch-in on Stealth Rock. I chose to use Earthquake to compliment Dragon Claw because we already have a Rotom-W and Starmie to cover Skarmory, and because I didn't want random Heatran walling us. However, Kira and Rick have their preferences, and chose different combinations. Dragonite provides a solid defensive presence on the team due to its bulk, Multiscale, and Roost, but it also provides an exemplary offensive presence due to its ability to set up with ease against multiple threats to the team. Dragonite does so much for this team in the late-game that it's unbelievable. I haven't had a Pokémon that had access to easier set ups bar the SubSD Terrakion that we also used.
Dragonite is a massive force in OU, especially with Multiscale. It fits very well on the team, as it is one of the best late-game sweepers. Its amazing Dream World ability, Multiscale, lets it take hits all day from full health, and can be further abused by Roost. The set we used is the BulkyDD set. We all have our preferences for the moves and items. I tend to use Leftovers and Fire Punch. Dragon Dance elevates Attack and Speed to incredible heights. Dragon Claw is a reliable STAB move, and will be hitting very hard after a couple of boosts. It is also preferred over Outrage due to the set being a more bulky one. Abusing Multiscale with Roost and continuing to set up is its main goal. Earthquake goes in the last slot to do better against rain, whilst hitting Steels that resist Dragon as well as taking down Heatran, who walls it otherwise. Dragonite brings offensive and defensive stability, seeing as it does wall threats like Volcarona. As for the EVs, they max out HP, whilst the Speed EVs insure Dragonite's base speed will reach 500 at +2 in that category. The Adamant Nature boosts attack, obviously. Its weakness to Ice is covered by Scizor, Starmie, and Rotom-W, which means it can switch out onto these partners whenever threatened by an Ice move. However, we don't ususally bring Dragonite in until his counters are gone. Only Scizor can come in on Dragon moves, which is the main reason a bulky set was used, seeing it will possibly have to take a couple of hits.
╠══════════════════════╣
One Last Glance at the Team
╠══════════════════════╣
╠═══════════════╣
Closing Comments
╠═══════════════╣
This has been one of the most successful teams I've ever posted. I enjoy battling with this team, and I'm sure your minds can help improve this team. Again, I'd like to thank Harsha and Kira Light for working with me on the creation of this dreaded team. All rates will be kept in mind.
This must have taken a ridiculous amount of time; thanks for putting so much effort into the RMT, Rick! I'd also like to thank Kira Light for working on this along with us. It's one of my more successful teams, and it's really fun to use. A lot of the sets diverge from what is considered the norm, and that would not have happened without these two. Thanks for reading through our team. Rates and comments are appreciated!
I think this team was rather successful. I'd like to thank Rick and Harsha again for creating the team with me. The format is also examplary, so I'd like to give Rick credits for his hard work put on the RMT. Thank you for reading and have a nice day!
Last edited by Rick on Sun Feb 05, 2012 4:00 pm; edited 1 time in total